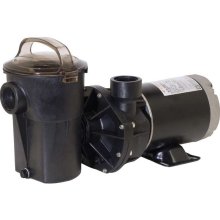 Pumps for the Wise!
We sell and recommend Hayward Pool Pumps! They are workhorses and dependable!
Did you know that you can save money by keeping your pump working properly?
Your Pool pump circulates the water so the filter can clean and spread the chemicals around in the pool. This can mean it runs a lot! You will notice an increase in your bills over the summer when the pump is running.
You can do a couple of things to help minimize these costs.
1. Make sure your pump is sized appropriately for your pool. Most pools can use ¾ hp or less.
2. Check how often your water is recycling. Why not consider shorter runs instead of running 6 hours all at once or constantly, Consider running it for an hour or two in the morning, an hour or two in the mid-afternoon and an hour or two in the evening when things have settled down.
3. If you need to replace your pump, consider a two-speed pump that is a proper horsepower. The two-speed pumps for swimming pools are worth the cost and they can run low most of the time. This will cut the cost on the electricity and they are quieter.
Morris Pool Service can provide you with pumps, filters, pool sand, and shock! Call today if you need any of these items or our services! We service the Kansas City Metro and surrounding areas! 816-807-1570
Categories: None